Self-Compassion and Belief
"The most important decision we make is whether we believe we live in a friendly or hostile universe." –Albert Einstein
We have evidence that the universe is hostile because we know what it feels like when things don't go the way we want them to.  The question is:  where does the pain come from?
It comes from ourselves.
When the outcome is negative, we beat ourselves up.  "I should have known better."  "I'm stupid."  We wait for ourselves around every corner with a big stick to beat ourselves up for making a mistake because that is what's comfortable.  We're used to it.
So do we fear the outcome, or do we fear what we do to ourselves when things go awry?
When we believe that the world is hostile, we are always vigilant. We are waiting for the other shoe to drop.  We are tensely anticipating the next attack or bad situation.  We tell ourselves stories about other people:  "He probably thinks I'm a loser." "She's disappointed with my work performance."  "They think I'm a terrible person."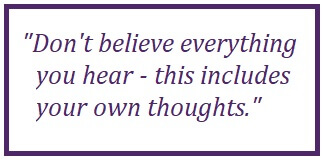 In our defense (to our own negative thoughts), we react, we attack or we run away from people and situations and cause conflict.
We create a hostile universe for ourselves.
If we dropped our stories about other people, the world would be friendlier.  If we understand how to put down the stick, we would learn to have compassion for ourselves.
Don't believe everything you hear – this includes your own thoughts. Question them and get rid of what is stressful.  The universe will suddenly become more and more friendly.
For further tips of Self-Compassion, I highly recommend the work of Kristin Neff.